When contemplating air quality, it is intuitive to think that the outdoor air is dirtier than the indoor air. There are no filters outside, and millions of tons of pollution are being produced daily via cars, homes, and businesses. Unfortunately, your indoor air quality can actually be worse than the outside air. According to the EPA (United states environmental protection agency), the levels of indoor air pollutants are 2 to 5 times higher than outdoor levels. In some rare cases, the pollutant levels can exceed 100 times the outdoor levels. This means that every breath you take inside the safety of your home could actually be significantly worse for you than standing on a busy metropolitan street corner.
As an air duct cleaner in Colorado Springs, we are experts in air quality. Planet Duct has been serving the Colorado Springs area as the best air duct cleaning company across El Paso County. Throughout our existence, we have always prioritized the safety of our consumers and the health of our community, even over the profitability of our company. Because of our extensive background in air duct cleaning, HVAC system knowledge, and NADCA certification, we know just how important breathing clean air is, and how a dirty HVAC system can actually be doing you more harm than good.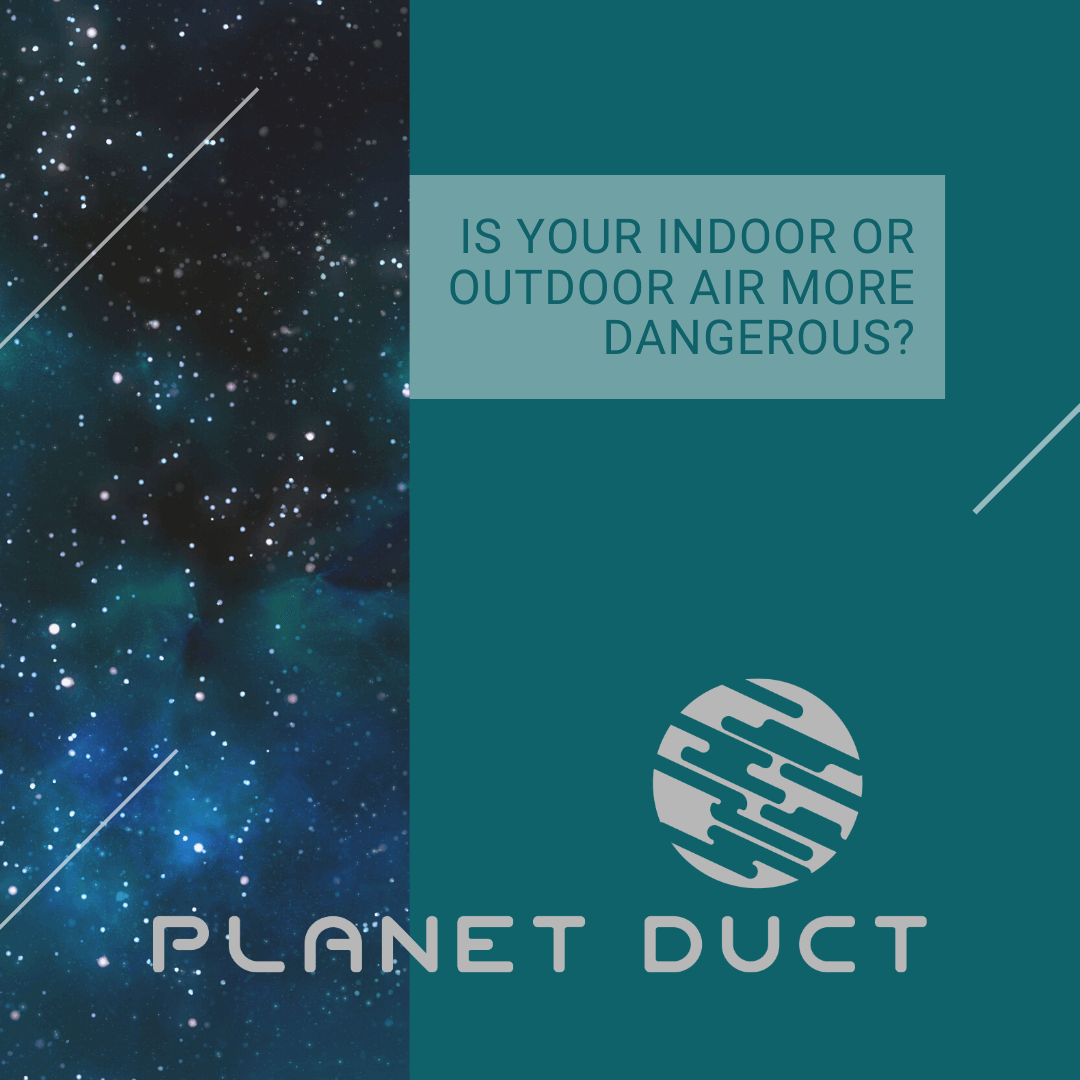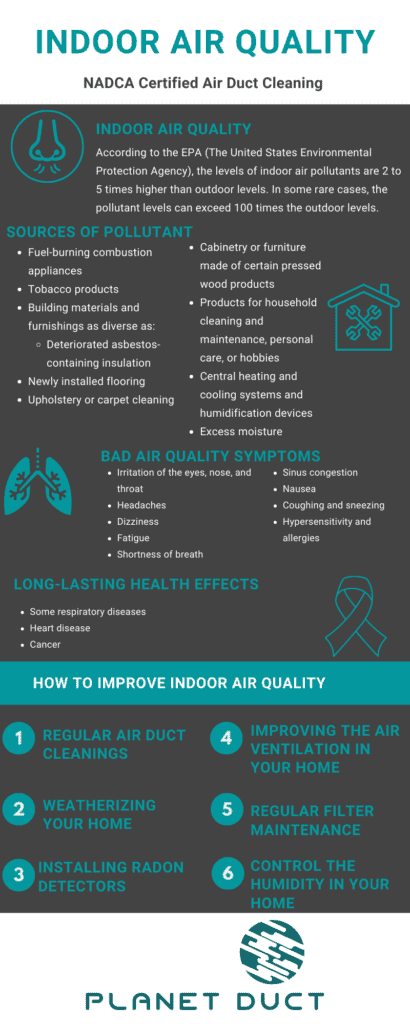 What Causes Bad Indoor Air Quality
According to the EPA, the following are Sources of Pollutant that could be causing bad indoor air:
Fuel-burning combustion appliances
Tobacco products
Building materials and furnishings as diverse as:
Deteriorated asbestos-containing insulation
Newly installed flooring, uph
upholstery or carpet
Cabinetry or furniture made of certain pressed wood products
Products for household cleaning and maintenance, personal care, or hobbies
Central heating and cooling systems and humidification devices
Excess moisture
Outdoor sources such as:
Radon
Pesticides
Outdoor air pollution.
Bad Air Quality Symptoms
As one would expect, these pollutants will have both short and long term effects on the inhabitants of the home. Some of these effects can include;
Irritation of the eyes, nose, and throat
Headaches
Dizziness
Fatigue
Shortness of breath
Sinus congestion
Nausea
Coughing and sneezing
Hypersensitivity and allergies

Those who have underlying conditions like children, elderly, or sick inhabitants will be more likely to experience these symptoms. Some of the more long-lasting health effects that can be caused by indoor air pollutants will most likely appear after years of extended exposure. These can include;
Some respiratory diseases
Heart disease
Cancer
These can present themselves unexpectedly and be severely debilitating or even fatal.
If left alone, these issues can be persistent, but there is an easy fix to immediately remove the pollutants and prevent any further damage from overwhelming your home.
How To Improve Indoor Air Quality
Some of the basic ways you can combat these potential diseases and poor indoor air quality you can do yourself.
Regular Air Duct Cleanings:
Regularly servicing and cleaning air supply systems and delivering units. This will prevent any of these systems containing harmful particles for extended periods of time. We recommend that you have your air supply systems serviced yearly to ensure that no mild or another build-up can be forced into your air. We also recommend that you hire a qualified air duct cleaner like Planet Duct. This will ensure that the job is done professionally and that now damages will be don to your home.
Weatherizing Your Home:
Weatherizing your home by sealing any cracks or gaps will prevent unfiltered air or exhaust from entering your home. It will also make your home's heating and cooling systems more efficient. Start with doors and windows to ensure they are airtight.
Installing Radon Detectors:
Installing radon detectors will allow you to detect deadly gasses that you can not smell or see. If they ever detect the presence of radon contact a professional to assess the situation and protect the inhabitants of the home.
Improving The Air Ventilation In Your Home:
Improve the overall air ventilation through air returns. Making sure that all air returns are open to properly ventilate all areas of the home.
Regular Filter Maintenance:
Regularly change filters in all systems so that they can properly filter particles from entering the air supply.
Air Duct Cleaning Treatments and Sanitization
You can also improve indoor air quality with air duct cleaning treatments and sanitization. At Planet Duct, we offer antimicrobial treatments that we safely apply to your ventilation system. This eliminates pollutants, odors, mold, fungi, and even viruses from your air ducts, so that you breathe cleaner air. Our process is speedy, safe, and effective, killing 99% of pollutants and microorganisms within just a few hours. For all antimicrobial spray services, complete cleaning of your HVAC system is required beforehand. This allows us to not only clear grime and particulate matter that can enter your air but also disinfect the HVAC systems to prevent anything from growing.
Let Us Clean Your Indoor Air With Air Duct Cleaning And Sanitation: Planet Duct
Planet Duct believes that your health and safety is our top priority. We know that our services can assist in improving your indoor air quality. Planet Duct is proud to continue serving the Colorado Springs area for the past years and we look forward to improving your air quality and protecting your family's health. Visit our website and let Planet Duct improve your air quality.