Every tenant wants to live in a comfortable home that is cool in summer and warm in winter. But who is responsible for providing this service? Is the HVAC service included in the rental fee? Or are tenants expected to take care of their heating and cooling needs?
If landlords include ACs in the unit, who is responsible for maintaining them? These are some common questions that often crop up in the landlord-tenant relationship. Answering them beforehand will help landlords avoid future friction with tenants.
At Planet Duct we offer out of this world air duct cleaning and we want to serve our fellow space travelers by not only our great service but also by our expertise in the field. Since we are expert Air duct cleaners in Colorado Springs we have learned how is responsible for providing and maintaining HVAC systems.
HVAC and landlord's responsibility
Most tenants assume that landlords are legally mandated to provide all the HVAC needs of a rental. By the law, the responsibility of the property owner falls under the warranty of implied habitability.
The warranty of implied habitability means landlords must ensure habitable living conditions before they turn over a rental to tenants, explains Blue Mountain, a property management company in Colorado Springs. But what does it mean for a home to be in a habitable living condition? Does it imply that all HVAC needs of a property must be met by the owner?
Here are the things required by the implied warranty of habitability:
Gas, heating and electricity systems that are in good working order
Plumbing systems – sinks, toilets, tubs or shower and hot water – that work
Adequate ventilation
Wall and roofs that do not leak and are not in danger of imminent collapse
Protection against criminal harm via functional locks and window guards
Absence of health hazards like asbestos, lead, and mold
Sanitary premises with proper disposal of waste
Absence of infestation by insect or rodents
Functioning smoke and carbon monoxide detectors
Safe emergency exits
Up-to-date compliance with building codes
By this, landlords are required to provide some form of heating for the premises. But they are not required to provide air conditioning. The reason air conditioning is not included as a legal requirement is that it is viewed as an amenity rather than a requirement. This means tenants can only expect a property owner to cater to the heating and ventilation needs of a rented apartment. But even when they are not required to do so, landlords will often provide air conditioning, along with heating and ventilation.
Protect Your Home and Family with Air Duct Cleaning Services
Get a Free Estimate Today With Our Team of HVAC Experts.
Who is responsible for maintaining the HVAC service?
How should responsibility for maintaining the HVAC system be allocated between owners and tenants?
There are three models landlords can use;
Landlord takes full responsibility
Landlord and tenant share responsibility
Tenant takes full responsibility
The Landlord takes full responsibility
In this model, the owner takes complete control of maintaining the entire HVAC system. There will typically be hours and days in the week when maintenance issues may be attended to. And if tenants require maintenance outside those hours, they will often be charged a fee. This method is mostly used in multi-unit dwellings.
Shared responsibility
This is the most popular model because it gives a measure of control to both parties. Under this arrangement, the landlord may take responsibility for replacements, while tenants pay for maintenance and repairs. In some cases, tenants are only responsible for replacing filters and cleaning ducts. In others, the tenant's role is expanded to include minor malfunctions.
Tenant takes full responsibility
This is the least common model and the one most likely to cause problems for a landlord. Here, the landlord shifts responsibility for all repairs to the tenant via a clause in the lease agreement. The problem with this is it can result in problems being overlooked by a tenant.
This is most likely to happen when a tenant has to undertake expensive repairs or replacement toward the end of the lease. Since he or she will not be around to enjoy the benefits, the tenant will naturally be reluctant to do it.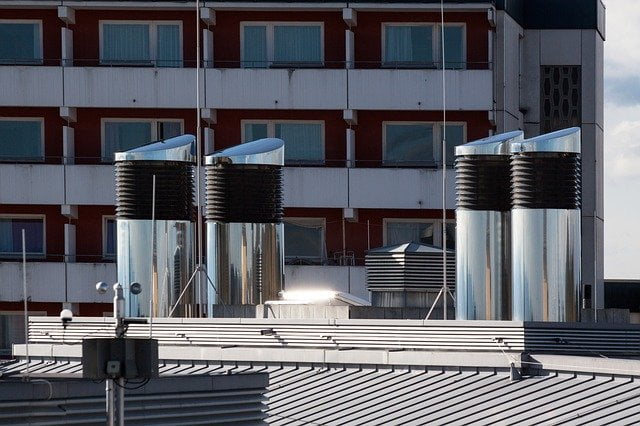 Regardless of which model they chose, landlords can benefit from incorporating these two time-tested guidelines into their HVAC maintenance policies;

When HVAC systems are damaged as a result of natural forces or normal wear and tear, landlords must bear full responsibility for repairing and replacing them. Damage through natural forces and normal wear and tear refers to occurrences over which a tenant has no control. In other words, the problem is not the tenant's fault. In this case, the landlord fixes the damage at no cost to the tenant.
On the other hand, when the HVAC system is damaged because of a tenant's negligent behavior, the tenant must pay for it. This is damage that would not have occurred except for something a tenant did or failed to do. In such cases, the tenant pays directly to repair the damage or the landlord deducts the cost of repair from the tenant's security deposit.
Regardless of how landlords choose to handle HVAC maintenance, a well-written HVAC clause will help them avoid conflicts with tenants. The terms must be spelled out in the lease agreement and fully explained to the tenant.
Rental Property Air Duct Cleaning Responsibilities | Planet Duct
Planet Duct is the largest and most respected air duct cleaner in Colorado Springs serving home bases from Fountain all the way to Castle Rock. Our crew of air duct cleaners will fly the duct ship anywhere to ensure that your family, friends, and business have clean and healthy air. In our experience air duct cleaning is one of the top things you can do to your home to ensure it is running efficiently and clean. Learn more on why air duct cleaning is so important; Is Your Indoor or Outdoor Air More Dangerous? At the end of the day as a landlord, you have the choice to determine who will be responsible for air duct cleaning and maintenance. In most cases, tenants don't often care about the longevity of your home. For this reason, we recommend that you take on the responsibility to maintain your HVAC systems in all of your rental properties on a yearly basis. This will ensure that the air is not only clean for your tenants but more importantly that your home's HVAC system will be regularly cleaned and examined by a NADCA certified air duct cleaner like Planet Duct.